Called just about anything from café lights to bistro lights, big bulbs to retro style lights, festoon (string) lights are perfect for creating a festive decoration in any backyard, or garden area. Festoon lighting and outdoor party lights come in a variety of lengths and styles. So for those of you who love seeing festoon lights outside at Christmas and wish you could have them back without incurring any bad luck in January, you can! Here are some inspirational ideas on how to use them to brighten up your garden.
Thin posts or tiki torches can be used to line walkways, festoon lights or lanterns can the be strung between each pole as a simple decoration. Put them up high enough to stop cats or dogs playing with them or people from tripping over them. Secure posts with rocks or sandbags if you have a problem with things being dug up.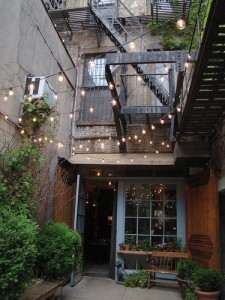 String lights can be quickly and easily installed with amazing results that will leave guests dazzled by the shine they emit. This backyard essential is now becoming more common among the Sydney community and can be found in the majority of beers gardens in the city and eastern suburbs areas.
With such a little effort, the setting and atmosphere are instantly changed. There are many different light bulbs available, which can each be used to create a unique setting depending on the type of event you plan to host. Warm white bulbs are an all-round crowd
You can also use these around the garden for those romantic and spontaneous garden dates with your significant other. Transform your garden or patio into a French bistro, for date night in Paris with just the right style of festoon lighting.
When using these lights certain precautions must be taken to ensure the safety and well-being of your guests and visitors. Below are just some of the most important ones.
Only use the appropriate wattage bulbs made to Australian standards.
Do not remove or insert lamps while the belts are connected to the power supply.
Do not connect one belt to another unless it is fitted with the specialist weatherproof connectors supplied by the manufacturer.
If the cable is damaged in any way, do not use it.
Ensure all lamp holders are fitted with an appropriate lamp.
When using the lights outdoors, it is essential that all lamp holders be fitted with a rubber sleeve.
If you have any concerns about setting these lights up without the supervision of a licensed electrician, Decorative Lighting Sydney is here to help. We have professional designers and installers who have all the experience necessary to carry out the installation and removal of all festoon lighting equipment.
Decorative Lighting Sydney
23/1 Farrer Pl, Sydney NSW 2000
Phone (02) 8488 8088